Skip to Main Content
It looks like you're using Internet Explorer 11 or older. This website works best with modern browsers such as the latest versions of Chrome, Firefox, Safari, and Edge. If you continue with this browser, you may see unexpected results.
NCC's Professional Development
As a major part of its mission from the beginning, NCC regularly offers Professional Development for librarians, faculty, and scholars. NCC has offered many types of workshops to meet a variety of needs, from multi-day seminars for new Japanese Studies librarians, to part-day workshops for faculty, and more. NCC is always ready to help users gain knowledge and skills to access Japanese resources. Encouraging librarian-faculty partnerships is another important focus. NCC also partners with other organizations to offer a broader range of workshops.
Learn about current Professional Development on their page here.
Junior Librarian Seminars
2002 Junior Librarian Training Seminar Held 18-23 August 2002 at Harvard University. This multi-day seminar provided specialized training and research knowledge to a new generation of Japanese studies librarians to more effectively serve Japanese studies faculty and students throughout the field.
---
2012 Junior Japanese Studies Librarian Workshop Held 12-13 March 2012 at the University of Toronto. From the description: "The Junior Japanese Studies Librarian Training Workshop was organized in response to the increasing demand to provide training on essential areas of Japanese librarianship to those librarians who recently entered the workforce."
This page is hosted currently on the Librarian Professional Development Working Group's main page and will open in a new tab.
---
2020 Next Generation Japanese Studies Librarian Workshop In response to the Covid-19 pandemic, two workshops were offered virtually for online resource sharing. Japanese E-book Collection Development Resources and Cataloguing and Metadata Resources.
2004/05 Train the Trainers
2004/05 Train the Trainer Workshops Held 7-9 August 2004 at UCLA and 8-10 January 2005 at Duke University. These workshops trained librarians to become instructors in new electronic resources for use in Japanese Studies.
2011/13 Team Building Workshops
2011/13 Team Building Workshops Held 29 September 2011 at Trinity University in San Antonio, TX and 12-14 August at Harvard University. Team-Building workshops were designed to inform professors and non-area-studies librarians about how to access new electronic information available about Japan. They required participation from both a professor of Japan-related courses and a non-area studies librarian. Japan Studies Librarians offered mentorship and instruction in specific Japan-related databases.
Digital Scholarship Workshops
2015 Digital Scholarship Workshop Held 6-7 November 2015 at Harvard University.
---
2017 Digital Scholarship Workshop Held 13-14 March 2017 at the University of Toronto.
---
2018 Digital Scholarship Workshop Held 15-16 November 2018 at Princeton University.
Collaboration with NDL
Japan Studies Information Specialist Training (JSIST) Program. Sponsored by NDL and Japan Foundation, NCC vetted and made recommendations for the North American participants in this intensive, weeks-long program in Japan from 2002-05. Program summaries were made in 2004 and 2005. Links and information have not been updated, and are presented as historical records.
2004 JSIST Program Schedule and Summary
Collaboration with Tenri University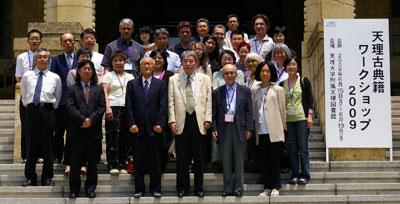 2007-09 Tenri Antiquarian Materials Workshop Held at Tenri University, Japan each June over the course of three summers, 2007-09. The Tenri Workshops were aimed at establishing a cohort of librarians expertly trained in the best practices for managing, cataloguing and organizing Japanese manuscript and antiquarian printed material, who would serve as a core group responsible for providing guidance and training on such material to colleagues in their respective countries/regions.
North American Coordinating Council on Japanese Library Resources
北米日本研究資料調整協議会
Copyright 2017
Contact the Webmaster